The Marmot Arms
Everyones Favourite Local
Après une décennie entière, The Marmot Arms s'est imposé comme LE lieu incontournable des vacanciers et des saisonniers.
En décembre 2011, Alex et Will ont ouvert les portes du premier Marmot pub au monde.
Avec une sélection des bières super diverse, des blondes, IPA et du cidre, une vaste sélection de vins et de spiritueux et un happy hour quotidien de 2 heures, vous êtes assuré de ne jamais avoir soif. Notre cuisine est ouverte de 10h à 21h30. Nous sommes fiers de cuisiner les meilleurs burgers faits maison à Tignes.
L'après-ski est notre spécialité. Au cours de la semaine, vous trouverez de la musique live ou un DJ tous les jours, et fréquemment un DJ en soirée pour vous faire danser jusqu'au bout de la nuit. Notre intérieur alpin est cosy, chaleureux et boisé, The Marmot est l'endroit idéal pour passer les heures par une journée blanche.
Idéalement situés au pied du télésiège de Palafour, THE MARMOT ARMS, votre local préféré, et les Marmottes vous attendent…
____________
After an entire decade, The Marmot Arms has established itself as THE place to be for holiday-makers and seasonnaires.
In December 2011, Alex and Will opened the doors of the first and only marmot themed pub in the whole world!
With a solid selection of draught beer including lagers, ales, IPAs and cider, a vast selection of wines and spirits, and a daily 2 hour long happy hour, you are guaranteed to never go thirsty. Our kitchen is open from 10am until 9.30pm. We pride ourselves in cooking the best homemade gourmet burgers in Tignes.
Après-ski is our speciality. During the week you'll find either live music or a DJ everyday, and frequently a thumping evening DJ set to help you dance into night. Equally will th our cosy, warm and woody alpine interior, The Marmot is the place to while away the hours on a white-out day.
Perfectly situated at the bottom of the Palafour chairlift, THE MARMOT ARMS, your favourite local, and the Marmoteers await you…
• A cosy and warm Alpine pub
• Your favourite beers and spiritual delights
• Man & Wolf craft pale ale
• The infamous Marmot Happy Hour from 4-6pm
• Fantastic live après-ski music
• Stonking DJ parties in the downstairs Burrow Bar
• Sky Sports on 3 massive screens
• An all day kitchen creating the greatest handcrafted, homemade 6oz gourmet burgers in the history of Marmot themed pubs EVER.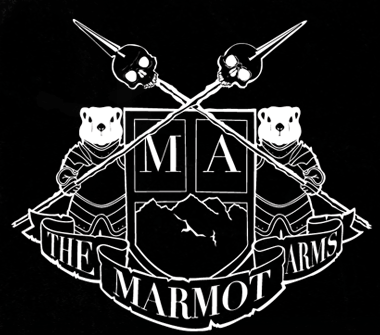 THE MARMOT ARMS
RUE DE LA POSTE
TIGNES
73320
FRANCE