The Marmot Arms
Everyones Favourite Local
After 5 glorious years The Marmot Arms has established itself as THE place to be for holiday-makers and seasonnaires.
Whether you need a full English breakfast before hitting the slopes, amazing burgers for lunch or dinner,  a lively and revitalizing après-ski session, a thumping night-time DJ set,  or just a place to while away the hours on a white-out day, we have everything you need and more.
Perfectly situated at the bottom of the Palafour chairlift, inside our doors you'll find:
THE MARMOT ARMS
Your favourite local
The Marmoteers await you…
• A cosy and warm Alpine pub
• Your favourite beers and spiritual delights
• Man & Wolf craft pale ale
• The infamous Marmot Happy Hour from 4-6pm
• Fantastic live après-ski music
• Stonking DJ parties in the downstairs Burrow Bar
• Sky Sports on 3 massive screens
• An all day kitchen creating the greatest handcrafted, homemade 6oz gourmet burgers in the history of Marmot themed pubs EVER.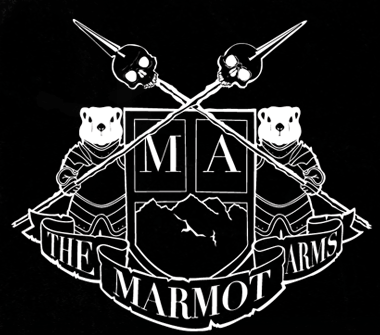 THE MARMOT ARMS
RUE DE LA POSTE
TIGNES
73320
FRANCE